Details:
Although more than 40 years old, this machine is in near mint condition and works perfectly for all functions. The display is an 8-digit vacuum fluorescent tube. The left most position is used to indicate an overlfow condition (o) and memory-in-use (.)
Usage:
Addition, Subtraction, Multiplication and Division:
Work as usual today. There is one memory.
Function of other keys, switches etc.: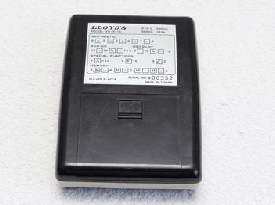 Click to view a full size picture (opens in a new tab)
Serial number:
Built in:
Functions:
Market-introduction:
Production until:
Price:
8-00352
1975
Addition, Subtraction, Multiplication, Division, Square Root, Square, Percentage Calculations
1974/1975 (My machine contains a main IC with a print indicating 1974 wk 50 as production date)
1975 ?
No prices found. However in 1975 similar machines were priced ca. DM 200,-