Details:
Although more than 40 years old, this machine is in near mint condition and works perfectly for all functions. The rather low serial number might indicate that this calculator is a very early one.
It uses 17 vacuum fluorescent tubes to form the display. The left most tube contains a memory-in-use indicator for memory I and II. The next tube contains the overflow/ error indicator.
The high quality keyboard uses reed relays which were often used those days. When a key is pressed it moves a magnet along the read relays thereby closing its contact.
Usage:
Addition, Subtraction, Multiplication and Division:
Work as usual today. There are two memories: I and II. The "M+" and "M-" keys operate in these memories.
Function of other keys, switches etc.:
The 1

st

press of "

C

" only clears the input register. The next press clears the machine except for memory I and II.
"

MR

" puts the memory contents back in the input register. "CM" clears the memory.
Constant: A number entered stays in the input register until a new number is entered. I.e. 12x12x12 can be calculated by entering 12, followed by "

X

", "

=

", "

=

".
"

%

" and "

/%

" supports percentage calculations. Examples:
120 "%" 10 = 12 (12 = 10% of 120)

120 "/%" 10 = 1200 (120 = 10% of 1200)
"

DP

" followed by a digit key or the comma determine the number of digits after the comma. For example: "

DP

" followed bij the comma-key result in 10 digits after the comma.
Memory switch:
0 : no automatic memory action
A: Calculation results are added in memory II
B: The first operand is stored in memory I
C: Combination of A and B
D: When using M+

and

M-

for memory I the number of these operations are counted in memory II

5/4 switch:
Upper position: round upward
Centre position: rounding as usual
Lower position: digits are truncated at the with "DP

" selected point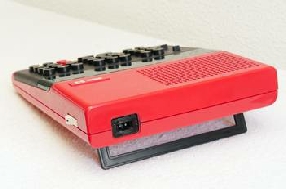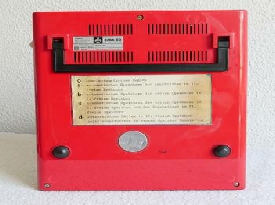 Click to view a full size picture (opens in a new tab)
Serial number:
Built in:
Functions:
Market-introduction:
Production until:
Price:
001170
1976 ? by Orgtechnika
Addition, Subtraction, Multiplication, Division, Square Root, Percentage Calculations
1976 ? (My machine contains some IC's with prints indicating 1976 as year of production)
?
No prices found. However in 1976 machines with one memory and 12 digit display were priced between DM 70 and 150. This beauty might well be close to DM 150.