Details:
This is the only machine I have seen until now which is operated in almost the same way we use our today's calculators. It is the last non-printing Hamann before the end of the mechanical calculator era.
Technically it differs from it's competitors regarding the construction of the main register. This construction allows for a simple way of subtraction by slightly moving the carrier to the left to engage different gears. The way division is implemented requires that the carriage registers can be halted while the main register keeps rotating. For that purpose the carriage registers are driven by a steel string which slips at certain moments during division.
Although I'm not an expert I have a slight suspicion that these machines were not very reliable. It looks like there were a lot of ad-hoc design decisions. There are also more adjustments than I have seen on any other machine.
Usage:
Addition/subtraction:
Enter a number and hit the "+" or the "-" key.
Multiplication:
Enter the first number and hit the "I X" key. Enter the second number and hit the "=" key.
Division
Enter the first number and hit the ":" key. Enter the second number and hit the "=" key.
Function of some keys, switches etc:
The right arrow-up key transfers the content of the result register III to the main register I.

The blue knob on the left side determines how many digits are dropped during a transfer.
It also determines how many digits are are not calculated during division.

The small red button on the left stops a division. It is necessary if e.g. a division by zero is started.

The two shift buttons between register I and registers 2/3 are used to determine the position of the decimal point.
They help, but don't automate; they are not internally connected.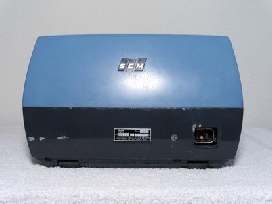 Click to view a full size picture (opens in a new tab)


Serial number:
Built in:
Functions:
Rotation speed:
Market-introduction:
Production until:
Price:
529 933
1967/1968
Addition, Subtraction, Fully automatic shortened Multiplication and Fully automatic Division
334 rot/min
1962
1968 (Known serial numbers run from 500,001 - 531,000)
Approx. DM. 1895 in 1968/1969/1970 (Source: Büromaschinen Lexikon)